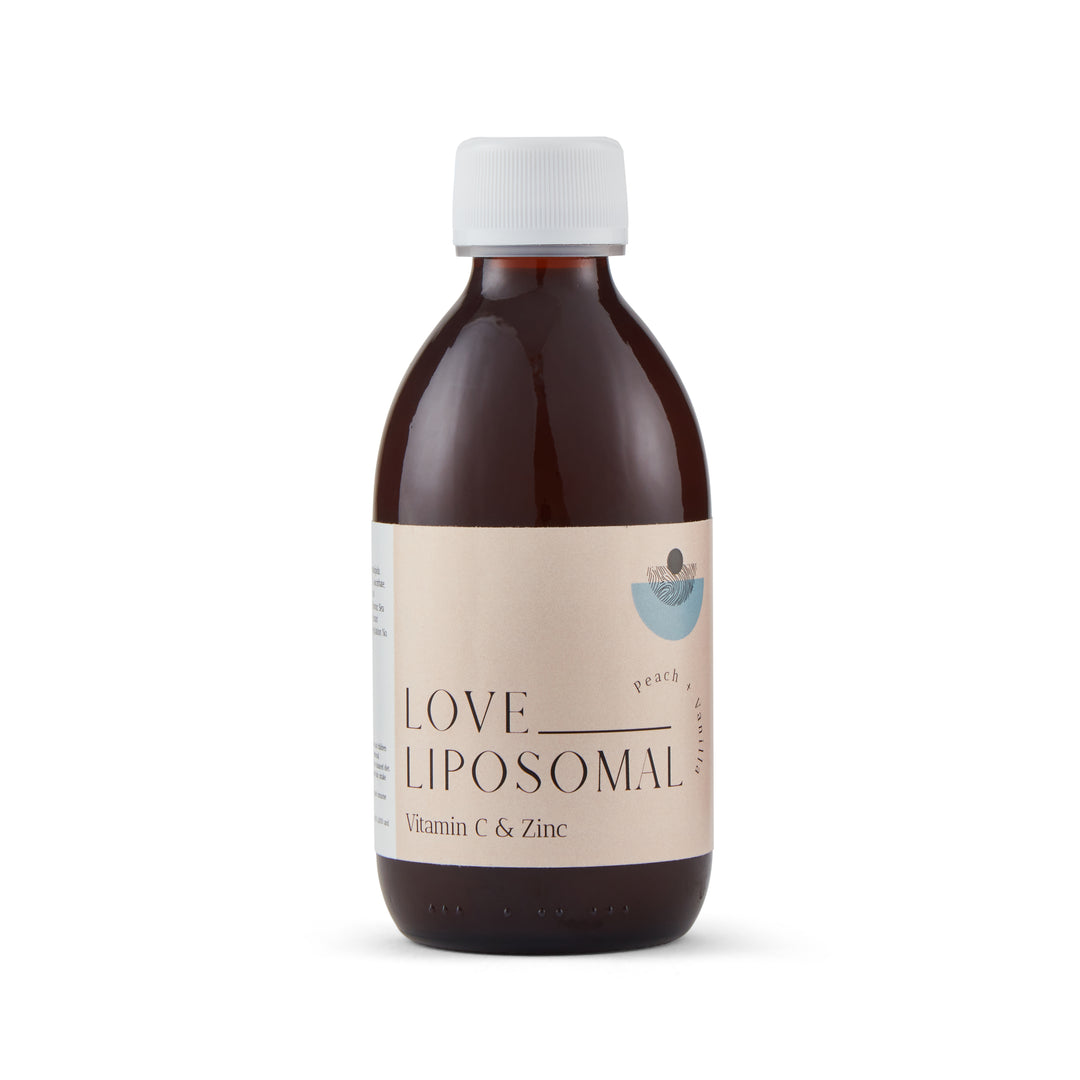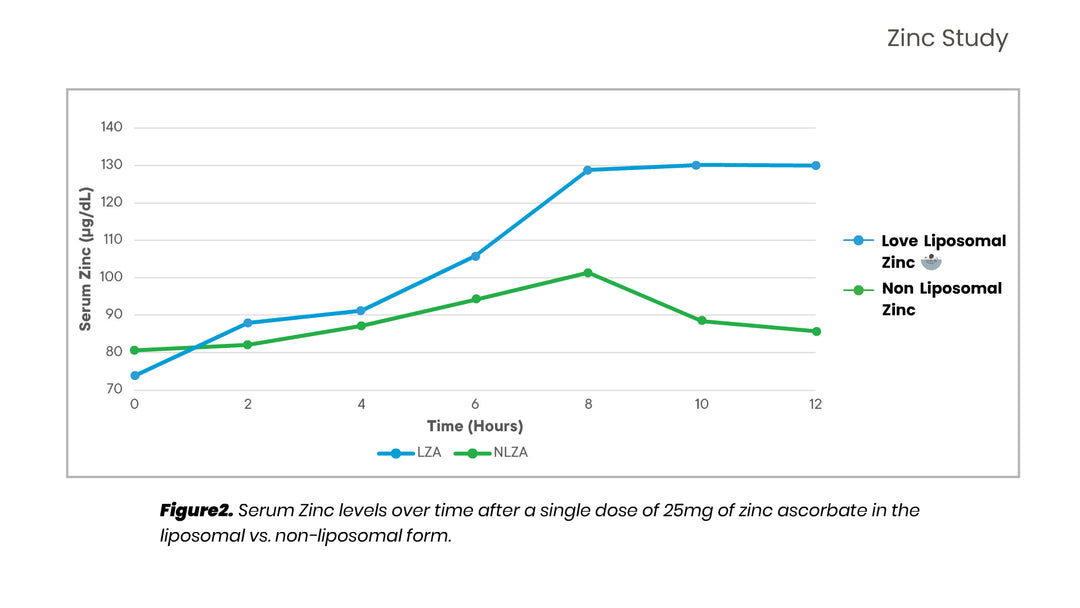 LIPOSOMAL VITAMIN C & ZINC
/
Tax included.
Shipping
calculated at checkout.
In stock, ready to ship

Inventory on the way
Dose: 10ml 
Each dose contains 1000mg Vitamin C and 25mg Zinc
25 Servings per bottle
Consume within 6 weeks of opening
Why Liposomal?
Love Liposomal studies show the absorption rate of liposomal supplements is up to 63x higher compared to normal supplements.
Liposomes are made from the same material as our cell membranes, so the nutrient can be absorbed straight into our cells. This overcomes the problems that tablets and powders face. Liposomal delivery system prevents stomach upset that is common with normal tablets.
The main challenge for typical forms of vitamins/supplements is that they must travel through the digestive system reducing the amount of active ingredient that's available for uptake.
Love Liposomal products are made in an ISO 22000 and GMP certified lab to ensure ourcustomers receive the highest quality of supplements


IMMUNE SYSTEM SUPPORT
Boost your body's natural defences with our liposomal Vitamin C and Zinc liquid supplement, which helps to maintain healthy immune function. With 1000mg of Vitamin C and 25mg of Zinc per dose , our formula provides potent antioxidant protection in a stomach friendly format. Both Vit C and Zinc are both anti-viral and anti-bacterial agents. Vitamin C may lower the intensity and length of a cold or stop it in its tracks.
FUNCTIONING
Zinc is responsible for the functioning of over 2000 enzymes and other proteins essential for life processes. Zinc is vital for healthy brain development. It's critical for the body's antioxidant defences against free radical toxins.
In clinical trials, Zinc is shown to improve mood. Vitamin C and Zinc together are a fantastic mix. This combination helps to lower the risk of age-related eye problems and speed up recovery. Vitamin C helps to produce and function white blood cells that fight infections.  
FAST ABSORPTION WITH LIPOSOMAL TECHNOLOGY
Our Vitamin C and Zinc supplement uses advanced liposomal technology to ensure maximum absorption and bioavailability. This is achieved as liposomes protect the active ingredient from digestive degradation. This means your body can absorb more of the vitamins and minerals through the bloodstream into the body's cells, so you can get the most out of your supplement.
OPTIMIZE OVERALL HEALTH
 Our Vitamin C and Zinc supplement is not only great for immune system support, but it also helps to promote healthy skin, contributes to the reduction of tiredness and fatigue, whilst Zinc contributes to the maintenance of normal vision, aids liver and muscle health and supports cognitive function.
LIPOSOMAL VITAMIN C WITH ZINC
 Our liposomal Vitamin C and Zinc comes in a liquid form with a tasty peach and vanilla flavour making it pleasant to consume and easy to swallow, it can also be added to water, shakes and juices. Plus our unique formula is vegan, gluten-free, soy-free, sugar-free, and non-GMO, making it a great choice for anyone with dietary restrictions, intolerances or preferences. Ideal for those who want a pure formula with natural ingredients.

WHY CHOOSE LOVE LIPOSOMAL?
 Love Liposomal products are made in an ISO 22000 and GMP-certified lab to ensure our customers receive the highest quality supplements. Only natural preservatives like Sea Buckthorn Extract are used in our supplements, plus all products are vegan, gluten-free, non-GMO, Dairy-Free, Soy-Free and sugar-free to ensure clean and pure formulations. All products contain liposomal technology for high bioavailability and faster absorption than other supplement formats.
Not suitable for pregnant women or children unless advised to by your health professional. Not a substitute for a healthy lifestyle or a balanced diet. Do not exceed the stated recommended intake.
Frequently Asked Questions


Is it OK to take vitamin C and zinc together?
When zinc and vitamin C are combined, it enhances the absorption of vitamin C and amplifies its advantages. Both vitamin C and zinc play a role in supporting the immune system, thereby reducing the likelihood of developing conditions like heart disease and strokes. Taking these two nutrients together provides a synergistic effect and promotes overall health. The combination of the two is an excellent boost for the immune system. 
What is liposomal zinc good for?
Liposomal zinc is recognised for its various beneficial effects on the body. One of its primary advantages lies in supporting the immune system. Zinc plays a vital role in immune function, helping regulate immune cell activity and enhancing the body's ability to fight infections and diseases. By utilising liposomal technology, zinc is encapsulated in liposomes, improving its bioavailability and absorption in the body. In addition to its immune-boosting properties, zinc also acts as an antioxidant, helping to neutralise harmful free radicals and protect cells from oxidative stress. 
What are the benefits of vitamin C and zinc together?
Combining zinc and vitamin C offers synergistic benefits that enhance vitamin C absorption and maximise its positive effects. Both vitamin C and zinc play crucial roles in supporting the immune system, which in turn can help reduce the risk of various diseases, including heart disease and strokes. By taking these two nutrients together, they work in harmony to provide a joint boost to the immune system, strengthening its defences and promoting overall health. 
How does zinc make you feel better?
Zinc is an essential nutrient distributed throughout the body and plays a vital role in various functions. One of its key roles is supporting the immune system, helping it function optimally and defend against infections and diseases. Additionally, zinc is involved in metabolic processes, assisting in the breakdown and utilisation of nutrients for energy production. It is also crucial for wound healing, contributing to the repair and regeneration of tissues. Furthermore, zinc is necessary for maintaining a healthy sense of taste and smell.
What symptoms does zinc help with?
Zinc supplementation may help alleviate or improve particular symptoms related to various health conditions. Zinc has been found to be beneficial in supporting immune function and may help reduce the duration and severity of the common cold or respiratory infections. It can also play a role in managing acne symptoms, as zinc regulates sebum production and supports skin health. In cases of zinc deficiency, supplementation can address symptoms such as hair loss, brittle nails, and impaired wound healing. 



Does vitamin C and zinc help hair growth?
Vitamin C aids in collagen production, which is important for hair structure and strength. Biotin, also known as vitamin B7, is essential for healthy hair growth, and biotin deficiency can lead to hair thinning or loss. Vitamin D contributes to hair follicle cycling and plays a role in hair growth regulation. Iron is crucial for proper oxygen transport to the hair follicles, while zinc helps maintain scalp health and supports hair growth. 
Should you take zinc at night or in the morning?
Zinc is a mineral that is critical to the body's overall functioning. It is involved in the production of over 300 enzymes, which are essential for various biochemical reactions in the body. These enzymes are responsible for processes such as DNA production, cell repair, and immune system support. Supplementing with zinc at night, when the body is in a state of rest and repair, can optimise these processes and support overall health.
INGREDIENTS
Purified Water, Glycerol, Phospholipids, Sodium L-Ascorbate, Zinc Di-L-Ascorbate, Natural Peach Flavour, Citric Acid Monohydrate, Natural Vanilla Flavour, Sea Buckthorn Extract, Rosemary Extract
The natural sea buckthorn extract serves as a natural preservative which also offers health benefits.

Check More: Liposomal Products
Our products can be taken neat or added to a water/juice.
If adding to a smoothie, add once you have blended otherwise this can damage the structure of the liposomes.
All of our products are designed so that they can be taken together.
Not suitable for pregnant women or children unless advised to by your health professional. Not a substitute for a healthy lifestyle or a balanced diet. Do not exceed the stated recommended intake.